Products / Plastic Pails and Containers
Your packaging companion in every 'super-shoppe'!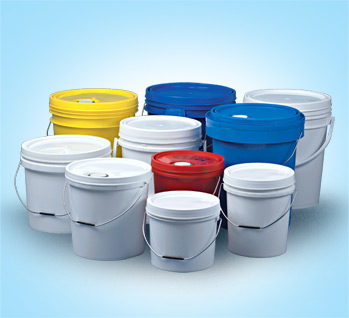 For products that are sold off the shelf, Plastic Pails are the best bet. They are the marvel of thin walled injection moulding, robust design, easy handling and excellent printing. Moreover, they are very convenient and have a high resale value.
Application Area
Inks
Grease
Paints & distempers
Detergents
chemicals
Food & food products
Edible oils & Lube oils
Features
Tight fitting lid, leakproof sealing
Excellent stacking strength
Temper evident locking
Nestable
Gurgle-free, controlled flow dispensing spout
Available in attractive shapes
Varied range on sizes
Customized multicolour printing
Corrosion-free, rust free & no contamination
Different colour options
High resale value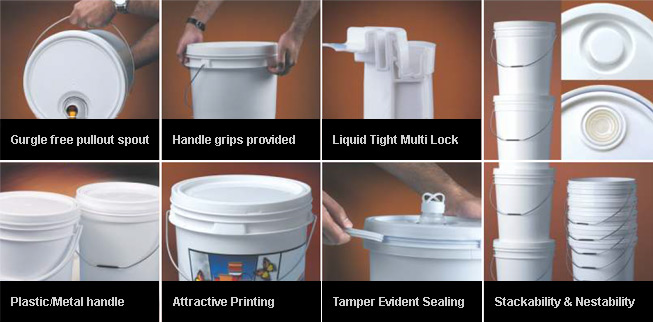 Capacity & Dimensiona (in mm)
Model
Capacity (ltrs)
Top Dia (mm)
Dimensions (Jar)
Bottom Dia (mm)
Height (mm)
ML - 20 (C1)
20
309.00
260.00
385.00
ML - 20 (C2)
20
297.00
260.00
385.00
ML - 20 (C3)
20
298.00
265.00
370.00
ML - 20 (C4)
20
292.00
250.00
370.00
ML - 20 (C5)
20
300.00
265.00
390.00
ML - 15 (C1)
15
288.00
264.00
267.00
ML - 15 (C2)
15
288.60
263.00
261.00
ML - 15 (C3)
15
300.00
264.00
303.00
ML - 10 (C1)
10
261.00
230.00
273.00
ML - 10 (C2)
10
261.00
231.00
273.00
ML - 10 (C3)
10
260.00
230.00
275.00
ML - 10 (C4)
10
297.00
255.00
297.00
ML - 7.5
7.5
230.00
194.00
265.00
ML - 6.5
6.5
215.00
186.00
245.00
ML - 5.5
5.5
214.00
198.00
194.00